The Music of the Nashville Shakespeare Festival
Shakespeare was a very musical playwright, integrating dozens of songs into his plays, with several musical characters. Through the years, many wonderful Nashville composers and songwriters have partnered with Nashville Shakes collaboratively creating some lively and unique scores. NSF is known for musical adaptations and composers performing live. For this CD, we've chosen just a few numbers from five live shows that were staged between 2014-2018. We hope you enjoy these original songs, co-written in the creative spirit with William Shakespeare.
— Denice Hicks, Executive Artistic Director
CD includes 12 original songs from our productions of:
As You Like It, 2014
Twelfth Night, 2015
The Comedy of Errors, 2016
The Winter's Tale, 2017
Hamlet, 2018
Produced by Grammy Award winner, Brent King, Co-Produced by Jack Kingsley, and Executive Produced by Denice Hicks.
Featuring the talents of renowned Nashville artists: David Olney, John Hadley, Stan Lawrence, Jack Kingsley, Lari White, Rollie Mains, Natalie Bell, and more!
It Almost Makes Me Laugh (Jaques' Song)
was written by David Olney for 2014's As You Like It, in which David played "Amiens." Denice directed this one, too, and presented the play as a diversion presented in a Depression-era homeless camp. The Forest of Arden therefore became a "Hooverville". Denice challenged David to write a song to replace the one sung by Amiens, about the killing of a deer. It was needed to denote the passage of time and seen as a great opportunity to effectively depict the mood and personality of the melancholy character, "Jaques". "Derek Whittaker played Jaques in the play and sang this song." recalls David, "I followed him around, playing guitar and making funny noises"
A Lover and His Lass
Lyrics by William Shakespeare, is Stan Lawrence's take on a Thomas Morley setting of Shakespeare's text in the 2014 As You Like It. He imagines what would happen musically if the Bard and Morley experienced the questionable fate of being born in the 20th century and had to make their living playing the banjo.
Under the Greenwood Tree
David Olney was asked to transpose Shakespeare's song into something that might have been written during the Great Depression in Tennessee for the 2014 As You Like It. David said that, "Updating the verses was a piece of cake but duc dame duc dame duc dame was a head scratcher. I hit on the idea of using the old blues nonsense line, diddy wah diddy in the song and sneaking in the duc dame stuff at the end. So far I haven't been arrested."
(Photo by Rick Malkin) L-David Olney, R-Derek Whittaker as Jaques
Come Away Death
Lyrics by William Shakespeare, melody and arrangement by Rolin Mains, this song provided a turning point in Twelfth Night. In Act 1 scene 2, Viola claims that she can sing, but isn't usually given the opportunity in most stagings. NSF was fortunate to land a wonderful singer, Madeline Fendrick, in the role of Viola, so Rollie added a counter melody for her to sing. When she joined Feste, played by Garris Wimmer, on this song, the Duke Orsino's love for her (even though she was disguised as a boy) was sealed.
O Mistress Mine
In 2015's Twelfth Night Rolin Mains composed a melody and musical arrangement to lyrics by William Shakespeare with O Mistress Mine. This song has been set by Byrd, Quilter, Vaughan Williams, Beach, and many others. It is one of the more famous of Shakespeare's songs. The director of Twelfth Night, Denice Hicks, wanted to convey a fairytale quality to her staging. Mr. Mains drew on the influences of Ravel and Vaughan Williams to create a piece that had a timeless melody supported by other-worldly, magical harmonies.
(Photo by Rick Malkin) Garris Wimmer as Feste
The Comedy of Errors, 2016
All In It Together
The opening track, All In It Together, is a song written by Stan for 2016's Shakespeare in the Park The Comedy of Errors. Denice Hicks directed the play emphasizing the theme of a long-lost family, separated by time, distance, and fate, finally reunited at the end. The adage "what goes around comes around" was used as a touchstone throughout the creative process, and Denice challenged all of the songwriters to write something toward that theme. Stan's song was used as a curtain call, sung first by Antipholus and Dromio of Syracuse, and joined by the whole cast for the final bows.
When One Door Slams
In When One Door Slams, Antipholus of Ephesus from the 2016 The Comedy of Errors is locked out of his home because his wife has mistaken his twin brother (whom he knows nothing about) for him and is entertaining the twin for lunch. He believes his wife to be cheating on him so he, his sidekick Dromio and two others go to visit "Tiny" at "Tiny's (World famous) Porpentine" for comfort. Stan wrote this song in the Bakersfield style of the 1960s.
Teach Me, Dear Creature
also from the 2016 The Comedy of Errors, Jack wrote this song to take the place of a long speech spoken by Antipholus of Syracuse who is smitten with Luciana, the sister of Adriana, whom everyone believes to be his wife, but is actually the wife of the twin brother for whom he has been searching. The title of the song is a key line in that speech. Denice asked Jack if he could write it in Bob Dylan's style, to which Jack happily obliged.
It All Comes Back
was written by Lari to meet the "what goes around comes around" challenge for The Comedy of Errors. Lari's song was used at the end of Act One and was sung by Bonnie who played "Tiny" who is an unnamed "Courtesan" in Shakespeare's version. To make the show more family-friendly that character became the local bar owner with a heart of gold, the one to whom the men could take their troubles, but also a shrewd business woman. This song ended the first half of the show on an upbeat, with Bonnie backed up by "Porpentine" waitresses and the rest of the cast singing from different places on the stage.
(Photo by Rick Malkin) Jordan Scott as Luciana and Taylor Kelly as Antipholus of Syracuse
Compren
by Natalie Bell was translated from Shakespeare's words to Spanish. The English version was sung by the rascally character of the thief Autolycus in The Winter's Tale. The Festival's 2017 production, directed by Santiago Sosa, was set in Latin America during the time of Simon Bolivar and included many references to Latin American culture of the early 19th Century. A lavishly orchestral arrangement of this song was used as the exit music with René Millán's voice on top. In order to emphasize the song's overall aesthetic, along with René's strong vocal quality, we decided to strip it down to just voice and guitar with a touch of castanets.
(Photo by Rick Malkin) Jonah Jackson as Autolycus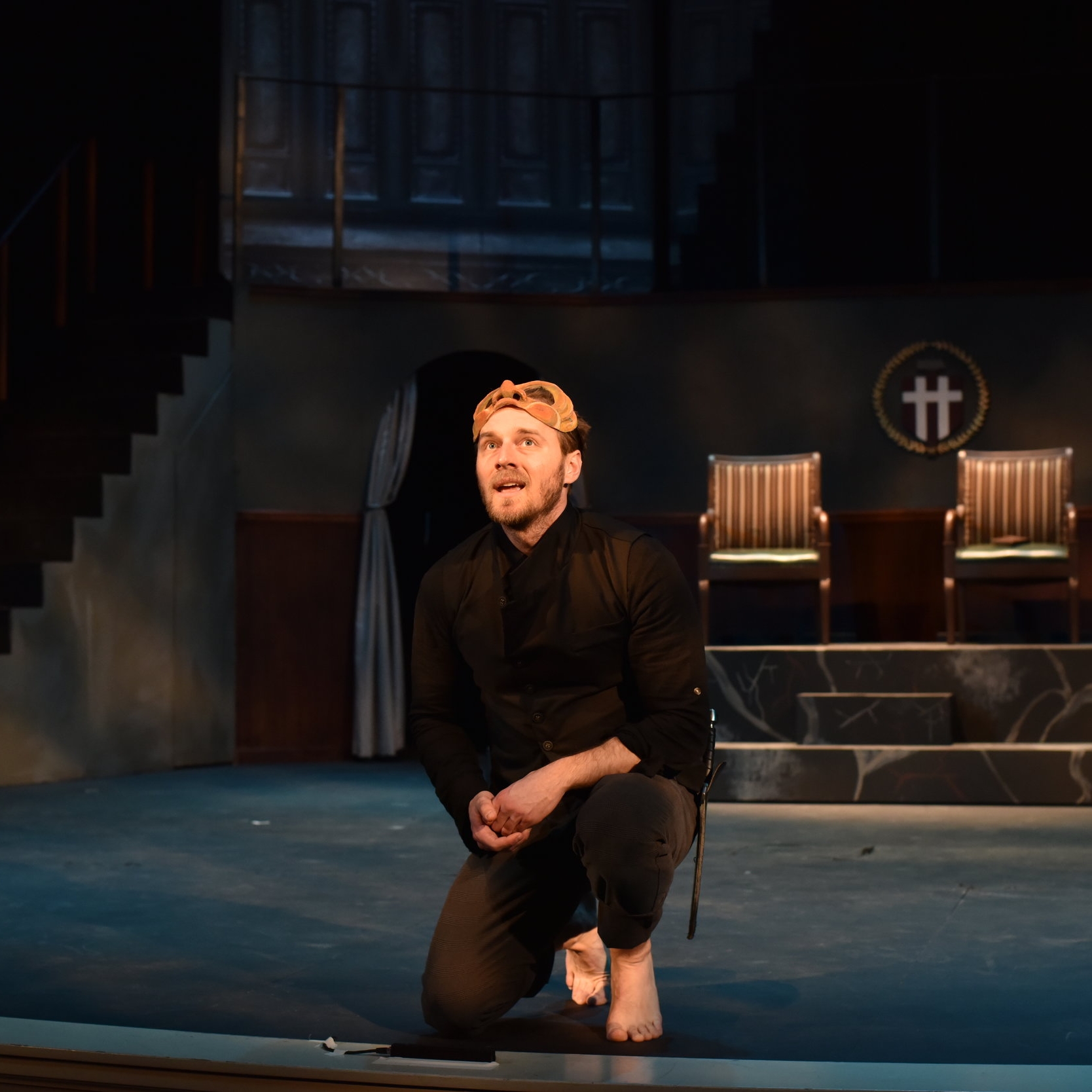 What is a Man
was written by Jack while Ms. Hicks was contemplating the idea of using music in her 2018 production of Hamlet in the same way that she had in other musical adaptations of Shakespeare's works. Denice felt that the song conveyed the emotion of the speech very effectively as well as making its meaning more clear. Eventually the idea of using music in a tragedy the same way as in a comedy was abandoned. Nevertheless, the melody of this song served as a recurring theme for the title character throughout the production.
And We All Will Meet Again
by Natalie and Jack was written as the Finale for 2018's Hamlet. It was intended to be an uplifting moment at the end of an inconsolable tragedy. It was modeled after the same melody which was written for the song in the play He is Dead and Gone, sung by Ophelia after the accidental slaughter of her father Polonius. It was also the opening theme at the top of the show, slow and lamentingly, as Hamlet is grieving over the death of his father with Ophelia comforting him. For the Finale Natalie and Jack switched the theme from mourning to redemption.
(Photo by Rick Malkin) Sam Ashdown as Hamlet
A Note from Jack Kingsley, Co-Producer
In October of 2016 five artists performed the first "Bard in the Round" at the Southern Festival of Books in downtown Nashville. It was Lari White Cannon, Stan Lawrence, Randy Lancaster, and me. David Olney was also supposed to play that day but had broken his neck on his staircase only days before. He did show up, nevertheless, in a neck brace, but just to listen. Doctor's orders. Each one of the performers played two songs that they had written in association with the Nashville Shakespeare Festival and their productions, or in Randy's case, songs he wrote inspired by the Bard. The NSF had recently completed their summer run of The Comedy of Errors for Shakespeare in the Park, which Lari, Stan, David and I had written songs for. Having seen four previous summer productions from the NSF I was very impressed by much of the original music that I heard in these plays, and had heard that people had already been asking for recordings of the music for years. We all thought it would be great to have CDs available with some of this music. Lari was ready to help us get the wheels in motion. She offered us the use of her studio in "The Holler," and all we needed was an engineer. Now that was going to cost us, and required some strategizing that, given the NSF's busy schedule and limited budget, was not able to happen soon enough. Still, it was simply something that had to be done, sooner or later. "If it be now, 'tis not to come; if it be not to come, it will be now; if it be not now, yet it will come – the readiness is all" Hamlet.
Two years went by and even more music was written for The Winter's Tale and Hamlet. Whenever we happened to bump into each other we'd say "We really ought to get that CD recorded!" But when? As sometimes happens in this world, Lari sadly and unexpectedly left us in January of 2018. It happened so suddenly many of us haven't even fully processed it yet. In September she was diagnosed with cancer. By the end of January she was gone. She had been a dear, long time friend to Denice and the NSF. It was up to us to carry on the torch that she had started.
In April of 2018 the NSF held a 30th anniversary celebration including its second "Bard in the Round". This time there was even more music to go 'round as David, Stan and myself were joined by Rollie Mains, Natalie Bell, Bonnie Keen, Garris Wimmer, René Millán, and Franko Hashiguchi. The event was a great success and people again asked when we were going to record some of this original, Shakespeare-inspired music. Bonnie Keen went right home to convince her husband, engineer Brent King, to make it happen for us. With the memory of fiesty Lari's fire fresh in our hearts, I gathered everyone together for one long day of recording at Ricky Skaggs' Place, with Brent lending us his formidable engineering, mixing and mastering skills. With only a few overdubs done afterwards, we completed this project in record time . So here it is, a genuine labor of love, not lost. --
Songwriter Bios
Natalie Bell (Compren, And We All Will Meet Again)
Natalie Bell is a Nashville-based composer, musical director, and multi-instrumentalist. Since graduating from Belmont in 2016 she has scored 11 productions with The Nashville Shakespeare Festival, MTSU, Belmont University, and the Theater Bug. She also specializes in creating custom arrangements and song mash-ups for choir, orchestra, and wedding ensembles. She is incredibly grateful for all the opportunities she's had to work with the NSF and looks forward to any future collaborations.
John Hadley (It Almost Makes Me Laugh)
Writer, songwriter and artist John Hadley is the author of more than 1,000 published songs, which have been recorded by artists including George Jones, Roger Miller, Waylon Jennings, Jerry Reed, Garth Brooks, the Dixie Chicks, Wynonna, Linda Ronstadt, Trisha Yearwood, Joe Cocker, George Burns and Dean Martin and many others. He has been a staff writer for Sony Music Publishing and for the ³Smothers Brothers Comedy Hour² on CBS television, performing in skits with Tom and Dick Smothers, Pat Paulsen, Glen Campbell, John Harford and others. An art professor at the University of Oklahoma from 1965 to 1987, Hadley had visual artwork featured in an exhibit at Mainsite Contemporary Art gallery in Norman, OK in 2011.
Jack Kingsley (Teach Me Dear Creature, What Is a Man, And We All Will Meet Again)
Jack Kingsley is a guitarist, singer, songwriter and composer who played professionally in countless musical acts for over thirty years, primarily in the New England area from which he hails. Born in New Jersey but raised and educated in Venezuela and Brazil, Kingsley enjoyed being immersed in the South American cultures, which is reflected in his versatility as a musician. He moved from Boston to Nashville in 2011 to focus primarily on songwriting and composing. In 2016 he was asked to contribute music to the Nashville Shakespeare Festival's "Shakespeare in the Galleries" at the Frist Art Museum and for Shakespeare in the Park 2016: The Comedy of Errors, he composed a song and played in the "Jailhouse Band." Kingsley also co-composed and provided underscore for 2018's winter production of Hamlet. He is currently working on the score for Shakespeare in the Park 2019: The Tempest.
Stan Lawrence (All in It Together, When One Door Slams, A Lover and His Lass)
Stan Lawrence is a multi-instrumentalist, composer, singer songwriter, and actor who likes to brag that he has done just about everything. . . once. He has been musical director for Shakespeare in the Park for As You Like It and A Comedy of Errors, has several self-produced CDs to his credit, and currently enjoys co-writing credit on the current no.3 song on the current no. 1 album on the Western Music Association chart. The addition of The Nashville Shakespeare Festival album rounds out a pretty good year for him, for which he is as grateful as he is surprised. The faith in him shown by Denice Hicks and everyone else in the NSF organization continues to amaze him, and he cannot adequately express his happiness to participate in the album project and work again with such fabulous people.
Rolin Mains (O Mistress Mine, Come Away Death)
Rollie has worked as a self-employed musician for over 25 years. He is the founder of the Nashville Composers Association, the Live Nashville Theater Project, and is on the board of Street Theatre Company. He has played keyboards on concert tours, in recording studios, produced award winning records, recorded his own record ("A Time To Dance"), produced concerts at Carnegie Hall and the Kennedy Center, composed music for film and stage (including NSF's winter productions of Twelfth Night and King Lear, and this summer's A Midsummer Night's Dream), music directed for musical theater in Nashville and NYC, and was named "Best Music Director" by the Nashville Scene in 2011.
David Olney (It Almost Makes Me Laugh, Under the Greenwood Tree)
"Americana Pioneer" singer-songwriter/recording artist, stream-caster and actor, DAVID OLNEY is well-known worldwide for his indelible songs and powerful live performances. Recorded by Emmylou Harris, Del McCoury, Linda Ronstadt, Steve Young, Slaid Cleaves, The Wailin' Jennys & many others, David shares his songs and the story behind it in his weekly "You Never Know" Songwriter Series videos posted every Tuesday on YouTube and at http://www.DavidOlney.com. In 2014, David made his Shakespearean acting debut and composed several songs for The Nashville Shakespeare Festival's Americana-themed production of As You Like It. He returned to that stage in 2016 with another role and having penned more original music in The Comedy Of Errors presentation.
Lari White (It All Comes Back)
Lari White was a Grammy-winning singer-songwriter, producer, and actress. She passed away in early 2018 and we dedicate this album to her memory.
The following words were written by her husband, Chuck Cannon:
"Jack asked if there was anything I would like to add to this page . . . I would love to say something short, sweet, cool, smart, magical, insightful, interesting, compelling and profound. But damn . . . it's about Lari. So, I would likely come up short, saccharine, transparent in my trying to sound cool which would only sound stupid, or worse, it would be commonplace and obvious; some silly run-on sentence that would bore the reader to tears with weak and shallow words. How I love her . . . How I miss her . . . How amazing she was . . . How amazing she still is . . . These are the inexpressibles . . ."
In loving memory of Lari White Cannon

Produced by Brent King and Jack Kingsley; Executive Producer, Denice Hicks
Recorded at Skaggs Place Studio and Little Pond Studio
Special thanks to Lee Groitzsch. With immense gratitude towards Bonnie Keen and Brent King for making this production possible, and to all who contributed their talents and creativity to this collection.

All rights reserved by The Nashville Shakespeare Festival, 2018